Our first official parade of the school year is the Milford Holiday Parade on Saturday, November 24th. You
have all been given your music and it needs to be memorized and ready to go for the performance. This is just
like every other performance and we need to be professionals.
Schedule:
9 am Meet at Muir Middle School in Milford
If you don't know where Muir is, here is the address:
Muir Middle School
425 George St.
Milford, MI 48381
10 am Parade Begins
10:45 am We will finish at the top of the hill just past Central Park in Milford (at the light by Main St./General Motors Road)
You will be dismissed and free to go at that time
Uniforms and Instruments: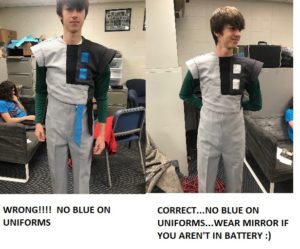 You need your full band uniform and all instruments/equipment for this event. We are wearing the red/green shirt color scheme for the band uniform for this parade and they have already been placed in your bag. Wear this with your actual band uniform tops, not the cloaks! Do not wear any drops blue or black or the blue
panel insert (should have silver panel showing).
Guard will be in black pants/band jacket, show shoes.
Guard will be spinning flags for the parade. Please wear warm clothing underneath your uniforms, whatever you need to stay warm…but make sure uniform covers up whatever you are wearing so we still look
professional. Don't forget black socks and your shoes and shako.
The weather can be really cold at this time of year so wear enough layers and clothing so you are not cold. Do everything you can to stay warm. This includes bringing hand warmers and foot warmers if you want to
use (except for when you are performing unless they fit in your gloves). MAKE SURE YOUR EXTRA
CLOTHES DO NOT PROHIBIT YOU FROM PLAYING YOUR INSTRUMENTS/SPINNING PROPERLY
AND OTHER COLORS ARE NOT VISIBLE THROUGH UNIFORMS/SHAKOS.
What we are performing:
We are performing the Parade song (meas. 1 – 30). We will go over the plan for what we are doing in class with
you before the break. Please memorize your music and represent our band with pride!
TUESDAY REMINDER…
Take your instruments home with you after school before Thanksgiving. You will not be able to get into
the band room on Saturday morning and you will need to take instruments home to practice.